I was recently asked to distill my health advice down to one core recommendation. I realized all my recommendations come back to the same thing.
You are enough. Right here and now.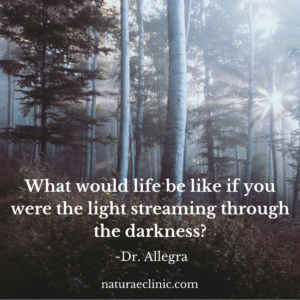 When you understand that you are enough without the need to change or fix anything, your life can be transformed.
Beating yourself up (emotionally or physically) or "woulda-coulda-shoulda-ing" all over yourself because you think you should be something different than you actually are, creates a lot of stress on your entire system. When you allow yourself to just be, without seeking to do or change anything, you allow yourself to fully be aware of who you truly are.
You are not broken. You have an innate ability to heal.
For me this was a beautiful realization. It was a relief. When I finally understood that I'm okay, even if nothing ever changes, a huge burden was lifted from me.
When you realize that life is going to be what it is regardless of what you expect, life gets a lot easier. When you're able to see yourself for who you are, you stop fighting yourself.
Waging war on yourself is a waste of precious energy. When you stop warring against yourself, you liberate a lot of energy can now be used for healing and growth.
An interesting thing changes and you stop seeking to be the "fixer" and solely seek to be aware and only aware. Meeting life with awareness and objectivity allows grace and gratitude to guide your choices rather than being driven by frustration, pain, and judgment. You become PROACTIVE rather than REACTIVE.
Leave a comment below and tell me:
Are you ready to observe your life for what it is rather than what you assume and expect it to be?
How would your life improve if you made a choice to meet each moment with joy and grace?
How would your life be different if you made a choice (yes, you have a choice in how you choose to show up) to be the light shining through the darkness?
I invite you to challenge yourself to show up to each moment and merely observe without judging. This change greatly elevated my level of satisfaction with my life.
I invite you to join me in meeting life's challenges with joy every day. Are you in?
Leave a comment below and let me know what changes happen in your world.
In Health and Balance,


Comments
comments