Your thoughts are an early flag heralding your balance has shifted.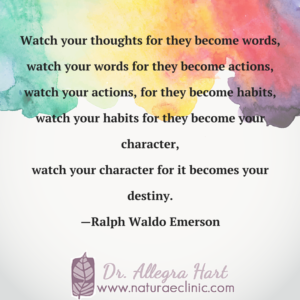 When you are mindful of your thoughts you can be proactive about your energy and choices BEFORE they get through too far out of balance.
I invite you to take a thought inventory.
Ask yourself:
What type of words do you use in your thoughts?
Are they positive or negative?
What are the themes you often think about?
Are you kind to yourself and others?
Do you like the answers you gave to the above questions?
Do your answers make you feel good, light, and happy?
If you are not happy with your answers, GOOD NEWS, you can change them.
When an undesired though pops into your head,
Acknowledge it- observe the though and your feelings around it. Try not to judge yourself for having this though.
Feel it- allow yourself to fully feel your emotions with as much objectivity as possible.
Thank it- thank the thought for trying to do it job. Gratitude is a powerful transformer. Let the thought know that it has served you well but you are no longer in need of its services and imagine it floating out of your head and composting itself into the ground.
This process is a PRACTICE.
Know that practice makes PROGRESS not PERFECT. Perfection is a delusion. The best you can sincerely do is all you have. Be honest with yourself about wether or not you are doing your best.
I like to check and ask myself. "Is this what my highest self would do?" If the answer is "yes", engage and move forward. If the answer is "no" or "maybe", its time to reset and reassess your choices.
Remember, one breath, one bite, on thought, and one step at a time is all you have. Choose to engage full with all of these and your life will blossom and glow.
Let me know in the comments below, what thoughts keep coming up for you?
What do you need to include in your life to reset and allow yourself to shift from reactive to a proactive optimal version of yourself?
In Health,


Comments
comments