The heat of summer needs something light, fresh, clean, bright, and cool.
Panna cotta checks ALL these boxes.
My family as a variety of dietary restrictions that occasionally makes sharing dessert tricky. This recipe met everyone's food needs. Ketogenic (when you use the erythritol), dairy-free, sugar-free all without skimping on flavor!!
I vetted this recipe at a recent family gathering and the response made me blush with joy. This recipe is shared with love and gratitude to my family.
I hope you enjoy it as much as we do!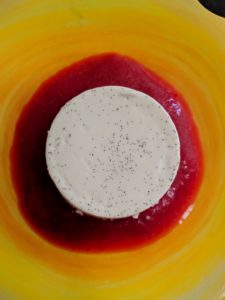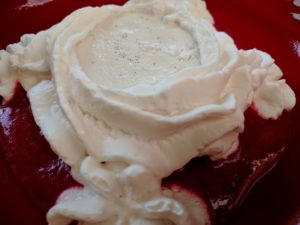 And, of course, you have to love the panna cotta wiggle!!

Coconut Vanilla Panna Cotta with Currant Coulis
Panna Cotta Recipe
Ingredients:
15 ounces full fat coconut milk
3T honey or erythritol-for keto
1 vanilla bean, scraped
Pinch of unrefined sea salt
1 3/4 tsp powdered gelatin
2T cold water
Directions:
Sprinkle gelatin into cold water and allow to soften.
Split the vanilla bead and scrape out the beans.
Place coconut milk, honey/erythritol, vanilla bean pod plus seeds, and salt into a small saucepan. Bring to a light simmer over medium heat while stirring gently. Remove from heat and mix in gelatin mixture until smooth.
Strain through a small sieve to remove any undissolved gelatin and pour into panna cotta molds, ramekins, paper cups greased with coconut oil, or small jam jars. Makes three 6-ounce panna cottas.
Place in the fridge to set up for at least 4 hours.
To unmold, gently draw a greased knife around the edge of the container to loosen the panna cotta. Place plate over the mold and invert. Allow the panna cotta to fall onto the plate on its own.
To serve, drizzle 2-3T of the Currant Coulis around the panna cotta and top with fresh coconut whipped cream. Try to get to the table before you start eating it!
Currant Coulis
1 cup of red currants
1 cup of white currants
1/4 cup of honey, maple syrup, or erythritol-for keto
Pinch of unrefined sea salt
Place all ingredients into a blender and blend until smooth. Pour mixture through a sieve to remove all currant seeds. Store in a glass jar in the fridge or freeze in an icecube tray for later use.
Coconut Whipped Cream
2 cups coconut milk, chilled
2 tsp vanilla extract
1T maple syrup or erythritol-for keto
Place all ingredients into a whipped cream dispenser, cover, and shake briskly until fully incorporated. Add nitrous as directed for your whipped cream dispenser. Shake well. Store in the fridge.
Leaves the plates licked clean…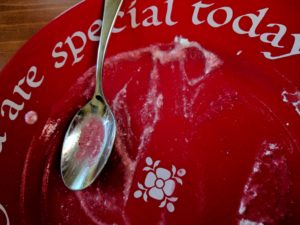 Comments
comments